How to Choose A 250W Electric Bike
Electric bikes are known for their power, speed, overall riding ease, and featherweight qualities. However, with the different e-bike wattages, choosing a 250W electric bike comes with the doubt of whether it has enough power and how to choose the perfect one. In this article, we will discuss the top 4 things to consider in choosing a 250W electric bike and why you need one above other e-bikes in the market today.
Why You Need a 250W Electric Bike
250W electric bikes meet the e-bike regulations in Europe countries
The European Union regulation exempts 250W electric bikes from registration and road tax. If your e-bike goes beyond 250W, you have to get it registered, pay taxes and wear a helmet, or you will not allowed to ride it on public roads.
250W electric bikes are sufficient for general commutes
If you intend to use your e-bike for everyday commuting like going to the grocery store or riding to the office, then your 250W e-bike would be just sufficient. It provides you with enough power and comfort to go wherever you need to go. Take the average battery capacity 10.4Ah as an example, the ebike can last about 80km in pedal assist mode, which is enough for most people to ride two round trips from the company and home.
250W electric bikes are compact and easy to carry
250W e-bikes are normally very lightweight and portable. Most thin tire 250W ebikes are under 20kg and the length and width are only 60-80cm after folding. Higher-powered e-bikes tend to be heavier to keep up with the increased power and speed because the battery is one of the heaviest parts in electric bikes.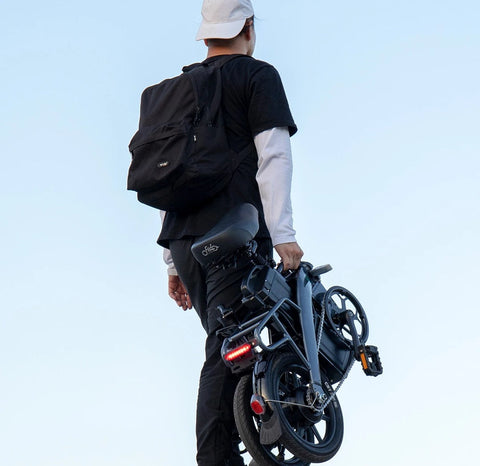 Things to Consider When Buying a 250W Electric Bike
Battery capacity
Many 250W electric bike batteries last for 40-50km in pure electric mode and about 80km in PAS mode. If you're considering buying a 250W electric bike, you will have to plan your usage accordingly. However, our new arrival - the Engwe C20 Pro undoubtedly has the biggest and most impressive battery capacity we've seen - a whopping 19.2Ah. It will last you for over 80km in electric mode and 150km in PAS mode. If your company is 10km away from home, you can ride it for 7 days, go to and from work every day, without a single charge.
Wheel size
Most 250W e-bikes have wheel sizes ranging from 20 to 26 inches to keep up with their power, speed, and easy riding. However, you can also choose 16 inches ebikes such as Fiido D2S and Onebot S6 to get a more compact size.
Tire size
When choosing a 250W electric bike, you should know the different tire sizes based on your route's terrain. The 4-inch fat tire is best for diverse and rough terrains, while the 3-inch tire is most common in mountain terrains. The 1.9-2.4 inch bike tire is best for e-bikes that commute across cities and essentially easy terrains.
Step-through or step-over
E-bikes are either step-through or step-over. The step-over e-bikes have a higher frame and a bar that runs from the saddle to the handlebar region. You would need to raise a leg over the bike frame to sit on it. In contrast, a step-through e-bike eliminates the complicated mounting and has a lower frame that allows you to step through and sit conveniently. The latter is best if you often wear long draping clothing like skirts or dresses.
Some 250W Electric Bike Types
250W Folding Electric Bikes
Folding electric bikes are perfect if you love compactness. The top 3 recommendations for folding 250W electric bikes are Engwe C20 pro, Fiido D2S, and Himo Z20.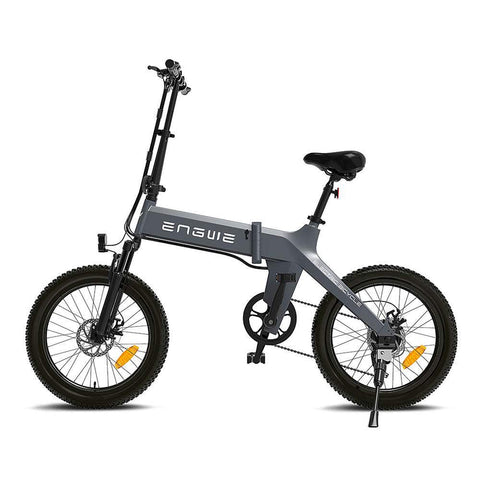 The Engwe C20 Pro is our latest e-bike arrival, and it is quickly becoming a popular favorite.
Why people love it
A big 19.2Ah battery that can go up to 150km on a single charge.
250W Bafang motor, silent and powerful.
Puncture-resistant off-road tires, you can pull the small nails out and keep riding without any air leaking.
Con
Net weight 24kg, a little heavy for some people.
Fiido D2S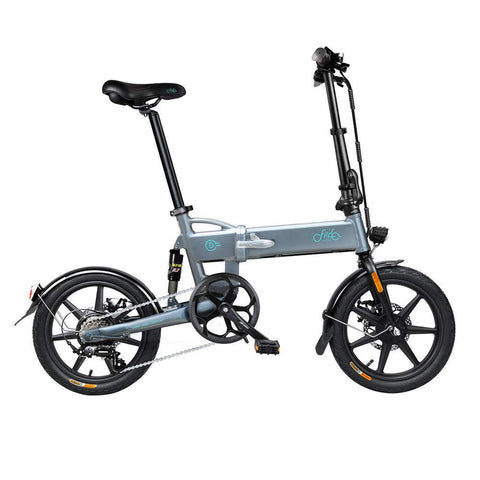 The Fiido D2S is a beautiful sleek gear-shift e-bike perfect for commuting in the city.
Why people love it
Compact size and 19.5kg light weight.
With CE, FCC, UN38.3 and MSDS certifications.
250W XiongDa motor
Con
The 7.8Ah battery is a little small for some people
Himo Z20
The HIMO Electric Bike Z20 is constructed similarly to a traditional bike. It runs smoothly with a dynamic dual cycling mode, high efficiency brushless rear hub 250W motor, and a 10Ah Lithium battery.
Why people love it
Compact sizeand easily foldable
Comes with a hidden air pump.
IPX7-certified waterproof.
Con
No suspension
250W Step-through Electric Bikes
Step-through electric bikes have lower frames that let you step through and sit easily. The top three recommended step-through e-bikes are Fafrees 20F054, Fiido D3, and Fafrees F20.
Fafrees 20F054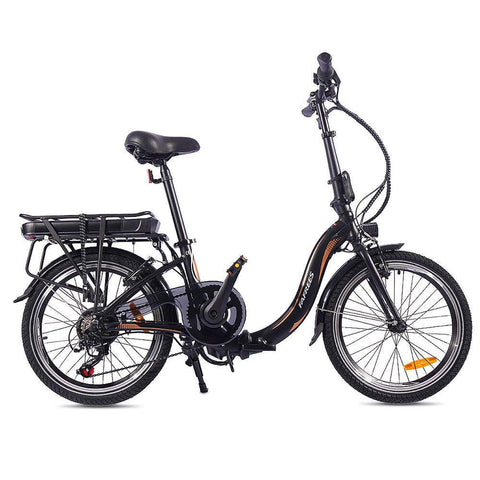 It is a lightweight, high-performance folding step-through bike that is easy to mount and ride.
Why people love it
Lightweight and easily foldable step-through
7-speed gears
Equipped with the intelligent cruise control system
Con
Net weight 22kg, a little heavy for women.
Fiido D3 Pro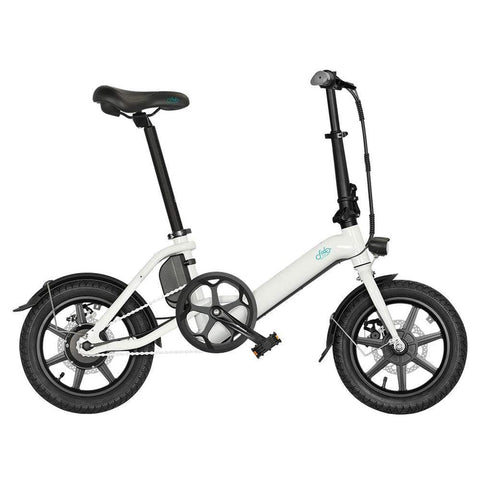 This step-through e-bike is small-framed but has an aesthetically pleasing look. The Fiido D3 Pro has a 7.8Ah 36V Li-ion battery and a 14 inch inflated rubber tire for various terrains.
Why people love it
Sleek design and easily foldable
5kg lightweight and compact size
Only takes 4 hours to fully charge
Con
The 7.8Ah battery is a little small for some people
Fafrees F20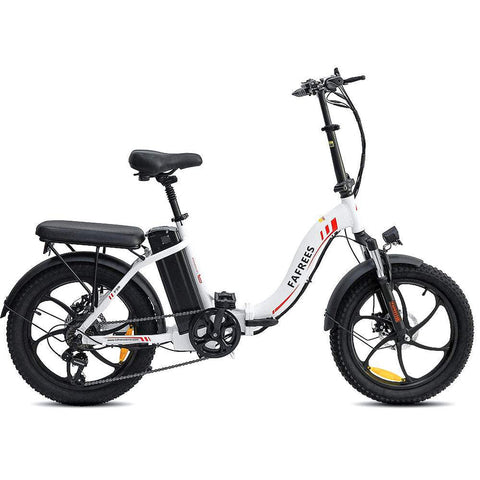 The Fafrees F20 is a folding step-through e-bike that is comfortable and easy to ride. It comes with 20-inch durable and anti-slip wheels, making it the ideal, efficient, and excellent mode of transportation.
Why people love it
Modern design step-through frame
15Ah big battery capacity
3 inches anti-puncture tire, better grip
Con
27kg net weight, slightly heavy
250W Fat Tire Electric Bikes
Fat tire electric bikes have tires at least four inches wide to offer more surface contact with the ground and improve traction and stability. They are appropriate for sandy beaches, snowy suburbs, rail routes, and rocky roads. They are heavier because of the big tires. The two recommended fat tire electric bikes that tick all the boxes are Fiido M1 and Engwe C20 pro.
Fiido M1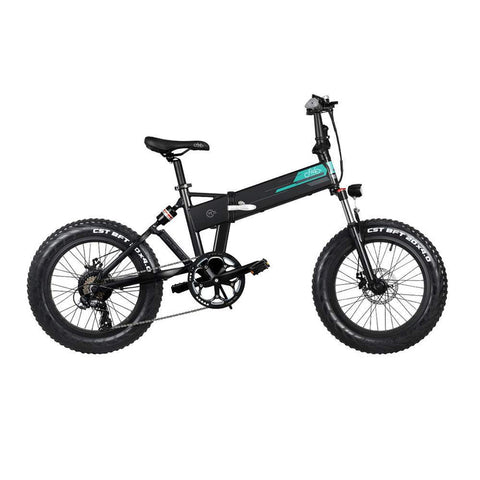 The Fiido M1 e-bike is specially designed to conquer off-road riding. Hence, it's sturdy and reliable fat 4-inch tires. It is a compact folding bike with a sleek and stylish design.
Why people love it
The max speed 25km/h can be unlocked to 31km/h
Large capacity battery of 12.5Ah
Full suspension
Con
The top tube is a little high for people under 160cm.
250W Electric Bikes with Different Wheel Sizes
The top three best electric bikes that fall within 16-inches to 20-inches are Engwe C20 and Fiido D4S.
Fiido D4S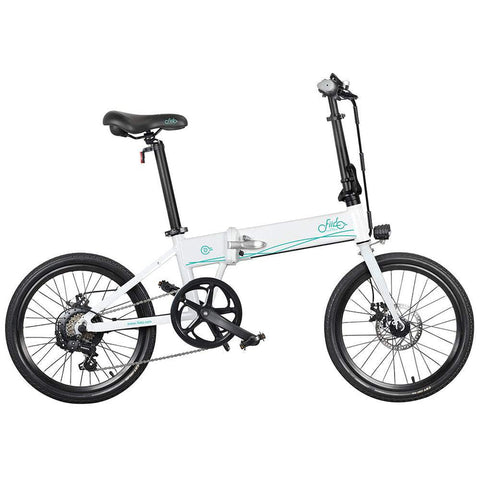 The Fiido D4S is a wide cross-frame electric bike with a 36V battery and a 250W motor. It is lightweight with a 20-inch wheel size that can face challenging terrains when it has to, although off-road riding is not recommended.
Why people love it
5kg lightweight and compact size
Professional bicycle ergonomic design for more comfortable riding
Wear-resistant and anti-slip tires.
Con
No suspension
The top three recommended electric bikes that fall within 26-inches to 27.5-inches are Bezior M1, Himo C30R, and Ado D30.
Bezior M1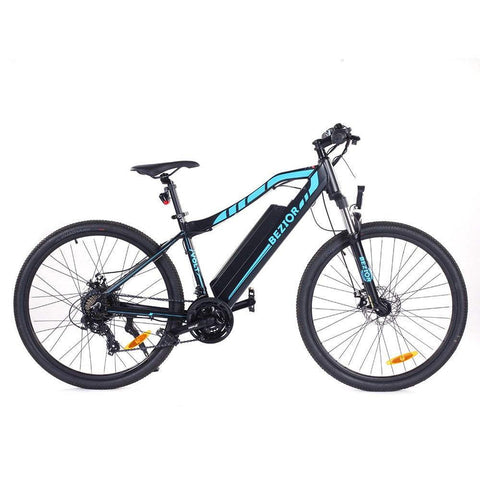 The Bezior M1 is an impressive 27.5-inch e-bike with a 250W motor and a 12.5 Ah Lithium battery. It has an impressive range and speed and a brilliant front suspension system with anti-skid wheels for easy and safe commuting.
Why people love it
High-performance 12.5Ah battery
Brilliant front suspension system with anti-skid wheels
Sturdy and ergonomic design
Con
25kg, heavier than many other thin-tire e-bikes
Himo C30R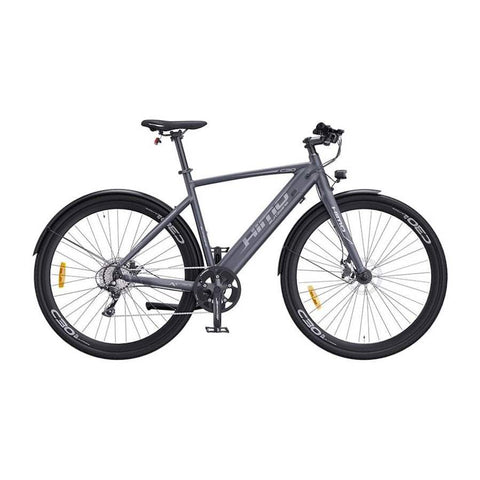 The Himo C30R is a perfect e-bike that allows its rider to enjoy efficient and easy riding. This bike sports a 36V 250W high-speed motor with a state-of-the-art helical gear bipolar-variable speed technology.
Why people love it
10Ah Samsung battery
Impressive helical gear bipolar-variable speed technology
6kg lightweight
Elegant design
Con
Price over 1500 Euros
Ado D30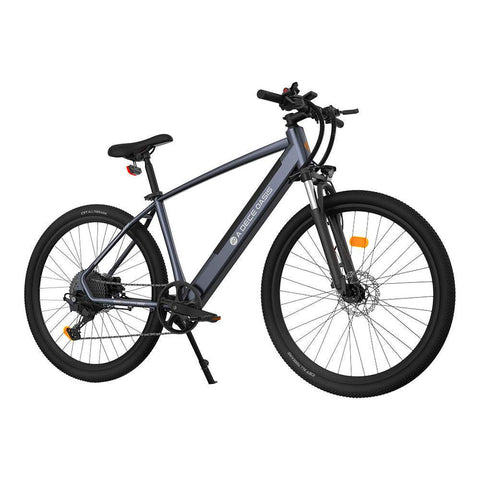 The Ado D30 is a top city crawler. With an impressive long range of 56 miles, an excellent 250W motor, and a detachable 10.4Ah battery, this e-bike is built to face lengthy and tedious commutes.
Why people love it
Front and rear hydraulic disc brakes
Shimano 11 variable speeds
Comes with CE and SGS certifications
EU local free after-sale service
Con
Price over 1500 Euros
---